18
Jul
The Most Beautiful Places to Visit in Nepal
Nepal, a land of breathtaking landscapes and rich cultural heritage, offers a plethora of beautiful destinations for travelers to explore. From the majestic Himalayas to ancient temples and vibrant cities, this enchanting country has something for everyone. In this article, we will take you on a journey to discover the most beautiful places to visit in Nepal.
Introduction
Nestled between India and China, Nepal is renowned for its awe-inspiring natural beauty, diverse landscapes, and warm hospitality. Let's embark on a virtual journey to explore the most beautiful places this enchanting country has to offer.
1. Kathmandu Valley: A Fusion of History and Beauty
The capital city of Nepal, Kathmandu, is an amalgamation of ancient traditions and modern developments. It is home to UNESCO World Heritage Sites such as the Pashupatinath Temple, Boudhanath Stupa, and Kathmandu Durbar Square. Wander through narrow alleys, soak in the vibrant atmosphere, and marvel at the intricately designed temples that reflect Nepal's rich architectural heritage.
2. Pokhara: Gateway to the Annapurna Region
Pokhara, often referred to as the adventure capital of Nepal, is a picturesque city nestled in the lap of the Annapurna mountain range. Surrounded by serene lakes, including the famous Phewa Lake, and adorned with stunning views of the Himalayas, Pokhara offers a wide range of outdoor activities such as boating, paragliding, and trekking.
3. Chitwan National Park: A Wildlife Paradise
For wildlife enthusiasts, a visit to Chitwan National Park is a must. This UNESCO World Heritage Site is home to an incredible variety of flora and fauna, including the endangered one-horned rhinoceros and Bengal tigers. Embark on a thrilling jungle safari, go bird watching, or take a peaceful canoe ride along the Rapti River.
4. Lumbini: Birthplace of Lord Buddha
Lumbini, the birthplace of Lord Buddha, holds immense religious and historical significance. Visit the sacred Maya Devi Temple, explore the monastic zone with its numerous monasteries, and find solace in the peaceful gardens surrounding the revered Bodhi Tree.
5. Nagarkot: Spectacular Sunrise and Mountain Views
Perched on a ridge northeast of Kathmandu, Nagarkot offers panoramic views of the Himalayan mountain range, including Mount Everest on a clear day. Wake up early to witness a mesmerizing sunrise that paints the sky in hues of gold and pink, illuminating the snow-capped peaks in all their glory.
See Here: Nepal Tour Packages
6. Annapurna Base Camp Trek: A Trekker's Paradise
Annapurna Base Camp Trek is a trekker's dream come true. This captivating journey takes you through lush forests, terraced fields, and traditional Gurung villages, culminating in breathtaking views of the majestic Annapurna massif. The trek rewards you with awe-inspiring landscapes and a sense of accomplishment.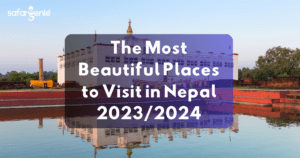 7. Everest Base Camp Trek: Conquer the World's Tallest Peak
For the adventurous souls seeking the ultimate challenge, the Everest Base Camp Trek offers a once-in-a-lifetime experience. Trek through rugged terrain, cross suspension bridges, and stand in awe of the mighty Mount Everest, the tallest peak in the world.
8. Langtang Valley: Serenity in the Himalayas
Langtang Valley, situated north of Kathmandu, is a serene and lesser-known trekking destination. The trail takes you through dense forests, picturesque villages, and glacial valleys, offering glimpses of the awe-inspiring Langtang Lirung and other snow-capped peaks.
9. Bhaktapur: Preserving Ancient Newari Traditions
Step back in time as you wander through the ancient city of Bhaktapur. Known for its well-preserved Newari architecture and traditional way of life, Bhaktapur offers a glimpse into Nepal's rich cultural heritage. Explore Durbar Square, admire intricately carved wooden temples, and savor the city's famous Juju Dhau (King Curd).
Read Also : How to Go Nepal Tour from India by Road: A Comprehensive Guide 2023
10. Patan: City of Fine Arts
Patan, also known as Lalitpur, is renowned for its exquisite arts and crafts. The city is dotted with intricately designed temples, palaces, and courtyards, showcasing the exceptional craftsmanship of the Newari artisans. Visit the Patan Durbar Square and the Patan Museum to immerse yourself in the city's vibrant cultural heritage.
11. Mustang: A Hidden Kingdom
Mustang, located in the rain shadow of the Himalayas, is a hidden gem waiting to be explored. Trek through the arid landscapes, discover ancient cave dwellings, and witness the vibrant Tibetan Buddhist culture that thrives in this secluded region.
12. Bandipur: A Quaint Hilltop Town
Bandipur is a charming hilltop town that offers a tranquil escape from the bustling cities. Its well-preserved Newari architecture, cobbled streets, and panoramic views of the Himalayas make it a perfect destination for those seeking peace and serenity.
13. Rara Lake: A Gem in the Himalayas
Tucked away in the remote regions of western Nepal lies the stunning Rara Lake. Surrounded by dense forests and snow-capped peaks, this pristine lake captivates visitors with its crystal-clear waters and tranquil ambiance. Explore the Rara National Park, home to diverse wildlife and enchanting flora.
Conclusion
Nepal is a land of wonders, offering a unique blend of natural beauty, cultural heritage, and adventure. From the majestic Himalayas to ancient temples and serene lakes, each destination has its own charm and allure. Plan your visit to Nepal and immerse yourself in the awe-inspiring landscapes and warm hospitality of this extraordinary country.
FAQs for Most Beautiful Places to Visit in Nepal
1. Is it safe to travel to Nepal? Nepal is generally a safe destination for travelers. However, it is always advisable to take necessary precautions and stay informed about the current situation before your trip.
2. When is the best time to visit Nepal? The best time to visit Nepal is during the spring (March to May) and autumn (September to November) seasons when the weather is pleasant, and the skies are clear for breathtaking views of the mountains.
3. Do I need a visa to visit Nepal?
If you are an Indian citizen then you don't need VISA to enter Nepal either by Air OR by Road. But if you are a PIO card holder (Person of Indian Origin) then you must get VISA before entering Nepal in any which way. For any Indian citizen, voter's ID card & passport are the only documents that prove your nationality as Indian, the rest of other documents like an ADHAR card, PAN Card, or any other such cards is considered as your proof of identity.
4. Are there any height restrictions for trekking in Nepal? There are no specific height restrictions for trekking in Nepal. However, it is essential to acclimatize properly and be aware of the risks associated with high-altitude trekking.
5. What should I pack for a trip to Nepal? It is recommended to pack lightweight and breathable clothing, sturdy hiking boots, a good quality backpack, a hat, sunscreen, insect repellent, and a first aid kit. Additionally, don't forget to carry a refillable water bottle to stay hydrated during your adventures.
Get ready to embark on a memorable journey through Nepal's most beautiful places and create lifelong memories in this magical land of wonder.
Read More : Nepal Tour Packages