Nepal, nestled in the heart of the majestic Himalayas, has become a sought-after destination for travelers seeking adventure, cultural richness, and breathtaking natural beauty. From towering snow-capped peaks to ancient temples and vibrant traditions, Nepal offers a diverse range of experiences. If you're planning a trip from Kolkata to Nepal, this article will guide you through the mesmerizing attractions and convenient tour packages available for an unforgettable journey.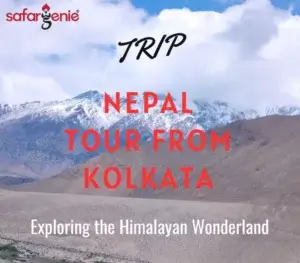 Introduction: Explaining the allure of Nepal as a tourist destination
Nestled between China and India, Nepal beckons travelers with its mystical mountain landscapes, vibrant cultural heritage, and warm hospitality. This enchanting country is a haven for adventurers, nature enthusiasts, and those seeking spiritual enlightenment. Whether you're a trekking enthusiast, a history buff, or simply someone who wants to immerse themselves in the beauty of nature, Nepal has something for everyone.
Overview of Nepal: Geographical location and cultural diversity
Situated in South Asia, Nepal is bordered by China to the north and India to the south, east, and west. This landlocked country boasts a diverse geography, ranging from the snow-capped peaks of the Himalayas in the north to the fertile plains of the Terai region in the south. The country is also known for its cultural diversity, with over 100 ethnic groups and a rich tapestry of languages, traditions, and festivals.
Attractions in Nepal: Mountains, temples, and natural beauty
Majestic Himalayas: A paradise for mountaineers and trekkers
Nepal is synonymous with the Himalayas, home to eight of the world's highest peaks, including Mount Everest. Adventurers from around the globe flock to Nepal to conquer these towering giants through challenging expeditions or embark on mesmerizing treks that offer breathtaking views and a chance to connect with nature in its purest form.
Cultural Heritage Sites: Kathmandu Valley and beyond
The Kathmandu Valley, a UNESCO World Heritage Site, is a treasure trove of ancient temples, palaces, and architectural wonders. The revered Pashupatinath Temple, the sacred Swayambhunath Stupa, and the intricate carvings of Bhaktapur Durbar Square are just a few of the architectural marvels that await visitors. Beyond the valley, historical sites like Lumbini, the birthplace of Lord Buddha, and the mystical city of Pokhara add to Nepal's cultural allure.
Adventure Activities: White-water rafting, paragliding, and more
For adrenaline junkies, Nepal offers an array of adventure activities that get the heart racing. Experience the thrill of white-water rafting in the raging rivers, soar high above the mountains while paragliding in Pokhara, or go bungee jumping into the depths of a scenic gorge. The diverse landscapes of Nepal provide the perfect playground for adventure seekers.
Planning a Nepal Tour: Factors to consider

When planning your Nepal tour, there are several factors to consider to ensure a smooth and memorable experience.
Duration of the trip: Short trips vs. long vacations
Decide how much time you can allocate to your Nepal tour. Whether you have a few days or a few weeks, Nepal offers options to suit various durations. From short treks and cultural excursions to in-depth explorations of multiple regions, tailor your itinerary based on the time you have available.
Best time to visit Nepal: Weather and seasonal considerations
The best time to visit Nepal largely depends on the activities you wish to engage in and the regions you want to explore. Spring (March to May) and autumn (September to November) are generally considered the peak seasons, with pleasant weather and clear skies. However, each season has its own charm and unique offerings, so research the weather patterns and plan accordingly.
Selecting a tour package: Tailored itineraries and inclusive services
Choosing a tour package that suits your preferences and budget can greatly enhance your Nepal experience. Look for packages that offer well-crafted itineraries, comfortable accommodations, knowledgeable guides, and inclusive services such as meals and transportation. Customizable options allow you to personalize your journey based on your interests and requirements.
Nepal Tour Packages from Kolkata: Convenient options for travelers
For travelers from Kolkata, embarking on a Nepal tour is made easier with convenient flight connections and a variety of tour packages to choose from.
Flight connections: Kolkata to Kathmandu
Several airlines operate direct flights from Kolkata to Kathmandu, ensuring a smooth and hassle-free journey. The flight duration is approximately 1.5 hours, making it a convenient option for travelers.
Types of tour packages: Budget-friendly to luxury options
Nepal tour packages from Kolkata cater to a wide range of budgets and preferences. Whether you're looking for a budget-friendly backpacking adventure or a luxurious escape, there are packages available to suit every traveler. From all-inclusive packages with guided tours, accommodations, meals, and transportation to more flexible options that allow you to customize your itinerary, choose a package that aligns with your needs.
Popular destinations covered in the packages
Nepal tour packages from Kolkata typically cover popular destinations such as Kathmandu, Pokhara, Chitwan National Park, and Lumbini. These packages offer a well-rounded experience, showcasing the cultural heritage, natural beauty, and adventure opportunities that Nepal has to offer. Depending on the duration of your tour, you can explore the vibrant streets of Kathmandu, witness the sunrise over the Annapurna range in Pokhara, go on a thrilling jungle safari in Chitwan, and visit the birthplace of Buddha in Lumbini.
Exploring Kathmandu: A vibrant capital city
Kathmandu, the capital city of Nepal, is a vibrant and bustling metropolis that blends ancient traditions with modern developments. Here are some highlights of what you can explore in Kathmandu:
Durbar Square: Historical and architectural wonders
Durbar Square is the heart of Kathmandu's cultural and historical heritage. It is home to palaces, temples, and intricately carved structures that showcase the rich artistic and architectural traditions of Nepal. The Hanuman Dhoka Palace, the Kumari Ghar (home of the Living Goddess), and the Taleju Temple are among the must-visit attractions in Durbar Square.
Pashupatinath Temple: Spiritual significance and rituals
Pashupatinath Temple is one of the most sacred Hindu temples in Nepal and a UNESCO World Heritage Site. Situated on the banks of the Bagmati River, this temple complex is dedicated to Lord Shiva and attracts devotees from all over the world. Witnessing the Aarti ceremony or observing the cremation rituals at the ghats can provide a deep insight into the spiritual traditions of Nepal.
Boudhanath Stupa: A center of Tibetan Buddhism
Boudhanath Stupa is one of the largest stupas in the world and an important pilgrimage site for Tibetan Buddhists. Its iconic white dome, adorned with prayer flags and surrounded by monasteries, exudes a serene ambiance. Take a walk around the stupa, spin the prayer wheels, and soak in the spiritual atmosphere while observing monks engaged in their daily rituals.
Adventures in Pokhara: Gateway to the Himalayas
Pokhara, known as the gateway to the Himalayas, is a picturesque city nestled beside the tranquil Phewa Lake. It offers a plethora of adventures and natural wonders to explore:
Phewa Lake: Boating and serene landscapes
Phewa Lake is a tranquil oasis where you can enjoy a boat ride amidst stunning natural landscapes. Rent a traditional wooden boat or a pedal boat and leisurely cruise along the lake, taking in the breathtaking views of the surrounding mountains and the reflection of the clear blue sky on the water. You can also visit the Tal Barahi Temple located on an island in the lake, adding a touch of spirituality to your experience.
Sarangkot: Sunrise and paragliding experiences
Sarangkot, perched on a hilltop near Pokhara, is renowned for its panoramic views of the Annapurna and Dhaulagiri mountain ranges. Wake up early and make your way to Sarangkot to witness a mesmerizing sunrise that paints the mountains in hues of gold and pink. For thrill-seekers, paragliding is a popular activity in Sarangkot, offering a unique opportunity to soar through the sky and enjoy a bird's-eye view of the stunning landscapes below.
Annapurna Base Camp Trek: A challenging yet rewarding adventure
For avid trekkers, the Annapurna Base Camp Trek is an unforgettable journey through the awe-inspiring Himalayan landscapes. This trek takes you through terraced fields, rhododendron forests, and traditional mountain villages, culminating in reaching the base camp of Mount Annapurna, one of the world's highest peaks. The trek rewards you with breathtaking vistas of snow-capped mountains, including the iconic Machhapuchhre (Fishtail) peak.
Chitwan National Park: Wildlife and nature exploration
Located in the subtropical lowlands of Nepal, Chitwan National Park is a UNESCO World Heritage Site and a paradise for wildlife enthusiasts. Here are some highlights of what you can experience in Chitwan:
Jungle safari: Spotting rhinos, tigers, and other exotic wildlife
Embark on an exciting jungle safari in Chitwan National Park, where you have the opportunity to spot a variety of wildlife, including the endangered one-horned rhinoceros and the elusive Bengal tiger. Traverse the dense forests on elephant-back or in a jeep, accompanied by experienced guides who will help you navigate through the wilderness and provide insights into the flora and fauna of the region.
Elephant bathing and breeding centers
In Chitwan, you can also visit elephant breeding centers and witness the playful interactions between baby elephants and their caretakers. Additionally, you can participate in the unique experience of elephant bathing, where you can join mahouts (elephant caretakers) in bathing and scrubbing these gentle giants in the Rapti River.
Tharu culture and traditions
The indigenous Tharu community resides in the Terai region and has a rich cultural heritage. Immerse yourself in their vibrant traditions by witnessing cultural performances featuring traditional dances, music, and costumes. You can also visit Tharu villages, interact with the locals, and gain insights into their way of life, agricultural practices, and handicrafts.
Cultural Insights and Festivals: Immerse in Nepalese traditions
Nepal's cultural heritage is deeply rooted in its traditions, festivals, and culinary delights. Here are some aspects to explore:
Dashain and Tihar: Major Hindu festivals
Dashain and Tihar are the most significant Hindu festivals celebrated in Nepal. Dashain, also known as the Festival of Victory, is a vibrant and joyous occasion when families come together to worship the goddess Durga and engage in various rituals and festivities. Tihar, or the Festival of Lights, is a time to honor and worship different deities, including Laxmi, the goddess of wealth. The city comes alive with decorations, oil lamps, and colorful displays, creating a mesmerizing atmosphere.
Newari culture and cuisine in Kathmandu
The Newari community, indigenous to the Kathmandu Valley, has a distinct culture and cuisine. Explore the narrow alleyways of the old city, where you'll find beautifully carved Newari buildings, intricate temples, and hidden courtyards. Indulge in Newari delicacies such as momo (dumplings), bara (lentil pancake), and samay baji (a platter of traditional snacks) while experiencing the warm hospitality of the locals.
Buddhist traditions and monasteries
Nepal is also home to a significant Buddhist population, and there are numerous monasteries and sacred sites to explore. Visit the serene monasteries of Boudhanath and Swayambhunath, where you can witness monks engaged in prayer and meditation. These places offer a tranquil retreat for spiritual contemplation and a chance to learn about Buddhist philosophy and practices.
Conclusion
A Nepal tour package from Kolkata opens up a world of adventure, culture, and natural beauty. From the majestic Himalayas to the vibrant cities and wildlife-filled jungles, Nepal offers a diverse range of experiences that cater to all types of travelers. Whether you're seeking a thrilling trekking expedition, a spiritual retreat, or a cultural immersion, Nepal will captivate your senses and leave you with unforgettable memories.
FAQs (Frequently Asked Questions)
Is it safe to travel to Nepal from Kolkata? Nepal is generally safe for travelers, including those coming from Kolkata. However, it's always advisable to take necessary precautions and stay informed about any travel advisories or updates.
What is the best time to visit Nepal for trekking? The best time for trekking in Nepal is during the spring (March to May) and autumn (September to November) seasons when the weather is generally favorable, and the skies are clear.
Are there vegetarian food options available in Nepal? Yes, Nepal offers a wide range of vegetarian food options. Traditional Nepali cuisine includes various vegetarian dishes, and many restaurants and eateries cater to vegetarian preferences.
Do I need a visa to visit Nepal from Kolkata?If you are an Indian citizen then you don't need VISA to enter Nepal either by Air OR by Road. But if you are a PIO card holder (Person of Indian Origin) then you must get VISA before entering Nepal in any which way.For any Indian citizen, voter's ID card & passport are the only documents that prove your nationality as Indian, the rest of other documents like an ADHAR card, PAN Card, or any other such cards is considered as your proof of identity.
Can I customize my Nepal tour package from Kolkata? Yes, many tour operators offer customizable packages that allow you to tailor your itinerary according to your preferences and interests. Discuss your requirements with the tour operator to create a personalized experience.
Now that you have a glimpse of the wonders that await in Nepal, it's time to embark on an unforgettable journey. Get ready to immerse yourself in the beauty, adventure, and cultural heritage of Nepal. Don't miss out on this incredible experience!