Group Tour

Packages 2024
HIGHLIGHTS OF GROUP TOUR 2024

Type Of Group Tour – Pilgrimage Tour
Minimum Tour Duration – 05 Night/06Day
Max Tour Duration – 12 Night /13Days
Tour Month – Feb 2024 To May 2024
Places Cover – Naimisharanya | Ayodhaya | Prayagraj | Varansi | Lumbini | Pokhara | Muktinath | Kathmandu | Janakpur | Chitwan
Price Starting from – 24,000/- Per Person*
Price UpTo – 51,000/- Per Person*
Pick-Up From – Lucknow / Gorakhpur
Drop-Off – Lucknow/ Gorakhpur
Hotline WhatsApp – +917460012551
Overview Of SafarGenie

Group Tour 2024
U.P + Nepal

Group Tour Packages: 2024
TOUR CODE : UGT101
Date: 17 Feb – 22 Feb
TOUR CODE : NGT102
Date: 23 Feb – 29 Feb
TOUR CODE : UNGT103
Date: 17 Feb- 29 Feb
TOUR CODE : UGT104
Date: 18 Mar – 23 March
TOUR CODE : UGT105
Date: 06 April – 11 April
TOUR CODE : NGT106
Date: 12 April – 18 April
TOUR CODE : NGT107
Date: 22 April – 29 April
TOUR CODE : UNGT108
Date: 06 April – 18 April
TOUR CODE : UGT109
Date: 04 May – 09 May
TOUR CODE : NGT110
Date: 10 May– 16 May
TOUR CODE : UNGT111
Date: 04 May – 16 May
TOUR CODE : NGT112
Date: 20 May – 27 May
Travel Time & Distance Between Places
❖ Lucknow To Namishranya : Approx 90 Kms (Around 1 – 2 Hrs)
❖ Namishranya To Ayodhaya : Approx 220 Kms (Around 4 – 5 Hrs)
❖ Ayodhaya To Prayagraj : Approx 170 Kms (Around 3 – 4 Hrs)
❖ Prayagraj To Varanasi : Approx 120 Kms (Around 1 – 2 Hrs)
❖ Gorakhpur To Sonauli : Approx 100 Kms (Around 2 – 3 Hrs)
❖ Sonauli To Chitwan : Approx 160 Kms (Around 4 – 5 Hrs)
❖ Chitwan To Kathmandu : Approx 200 Kms (Around 7 – 8 Hrs)
❖ KathmanduTo Manakamana : Approx 150 Kms (Around 5 – 6 Hrs)
❖ Manakamana To Pokhara : Approx 110 Kms (Around 6 – 7 Hrs)
❖ Pokhara To Bhairahwa : Approx 200 Kms (Around 7 – 8 Hrs)
❖ Bhairahwa To Gorakhpur : Approx 120 Kms (Around 3 – 4 Hrs)
Proposed Hotels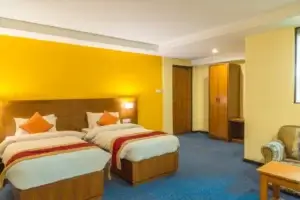 Hotel Ananda Pashupati / Similar*
Deluxe Hotel
Address: Kathmandu, Nepal
Facilities
Hotel Kunja / Similar*
Deluxe Hotel
Address: Pokhara, Nepal
Facilities
Hotel Majesty / Similar*
Deluxe Hotel
Address: Jomsom, Nepal
Facilities
Proposed Vehicle
Force Traveller (Fully Customized & Luxury Built Interior) – All 15 Pushback Seats
Roof Top Luggage Carrier – All your luggage will be on top of the vehicle, fully covered and properly tied up.
Inclusion
❖ Group Size – 15 Person Only.
❖ Manokamana Cable Car Charges.
❖ Accommodation on Double / Triple Sharing Basis.
❖ Pick-up & Drop from the respective place as per itinerary.
❖ All Toll Tax, Parking, Fuel, State Entry & Bhansar Charges.
❖ Welcome Kit On Arrival (Water Bottle + Snacks + Cookies).
❖ Daily stay in a Deluxe Hotel with meals as specified in the itinerary.
❖ Entire transport (transfer & sightseeing) by Luxury Traveller on SIC.
Exclusion
❖ Any Taxi | Air Fare | Train Ticket charges to & from Gorakhpur.
❖ TCS charges as per the government rule & your eligible tax slab.
❖ Any charges for Camera, Tour Guide, TIPS, Extra Sight Seeing Entry fee, and VIP Darshan.
❖ Everything which is NOT Mentioned in Inclusion
Terms

&

Conditions
10% of the Total Package Advance for confirmation of booking.
20% of the Total Package Within 45 days of the start of the tour.
20% of the Total Package Within 30 days of the start of the tour.
50% of the Total Package on the first day of the start of the tour upon arrival.
CHILD POLICY
Upto 02 Years NIL
Between 02-05 40% of the Adults Cost (Without Bed & Seat in vehicle)
Between 05-12 70% of the Adults Cost (With Bed & Seat in last Row)
Above 12 100% as of adult cost
Frequently Asked Questions

(FAQs)
WHAT GUEST SAY

ABOUT US

261 reviews on
Shamprasad Mysore srinivas
26/06/2023
Chardham was my 2nd trip with team SafarGenie and I am very satisfied with the service and Coordinators. They were helpful from the very beginning, tried to organize at the best. We were happy with respect to the hotels, food, and the help to transport our luggage. Driver was very professional and friendly. If an extra driver was provided we might have managed to cover a couple of places we missed. Help in booking helicopter tickets would have been a great boost to the trip. Surely recommend it to my friends and family. Thank you for a memorable trip.
Varadarajan Y.S.
25/06/2023
Overall, the whole trip was good and pleasant. Accommodation and food was good andcomfortable. We could meet the schedule most of the times. The changeover of the driver in-between affected the trip schedule and we were devoid of visiting few places suggested in the itinerary. Drivers could be more friendly with the passengers and should help them in visiting places. Since, it is a long trip, it is better to have two drivers who can drive in shifts safely.
Well organised, very proactive.
Very nice,very encouraging, very supportive
An awesome trip of Nepal from Gorakhpur. Budget package. All Hotels were beautiful. Driver was very good. Very peaceful and memorable journey.
Ramesh Panchal
05/06/2023
family tour for Nepal was very good experience and it was planned very well. our point of contact Priya was good in providing prompt response. Driver Sahid was very cooperative.
nitika tripathi
01/06/2023
Excellent management of travel.. even if we fluctuate about our destination they adjust it. They are very flexible.. very helpful.. thank you Safar genie and Thanks Ashutosh...😊
It was nice and pleasent trip. Team and driver they allocated was nice and helpful. Recomemd to others
NAVEEN CHANDRAKAR
28/05/2023
आशीर्वाद टूर एवं ट्रेवल्स द्वारा प्लान किया गया टूर पैकेज की जितनी भी तारीफ की जाय कम है । मैं अपने दोस्तों को भी इसकी जानकारी बतलाते रहता हूँ। बहुत ही अच्छा अनुभव रहा