Are you an adventurous soul seeking a memorable journey amidst the stunning landscapes of the Himalayas? Look no further than the Nepal tour package from Delhi. This article will guide you through an unforgettable expedition to Nepal, where you'll immerse yourself in rich cultural heritage, breathtaking natural beauty, and thrilling outdoor activities. Get ready for an extraordinary experience that will leave you awe-inspired and rejuvenated.
Introduction: Discover Nepal's Charm
Nestled in the lap of the mighty Himalayas, Nepal is a land of unparalleled beauty and cultural diversity. It offers a perfect blend of ancient traditions and natural wonders, making it an ideal destination for travelers from all walks of life. The Nepal tour package from Delhi opens doors to an enchanting world where you can witness snow-capped peaks, explore ancient temples, encounter exotic wildlife, and embrace the warm hospitality of the Nepalese people.
Arrival in Kathmandu: The Gateway to Nepal
Your journey begins as you arrive in Kathmandu, the capital city of Nepal. The bustling streets, vibrant markets, and ornate temples create a lively atmosphere that immediately immerses you in the Nepalese way of life. Take a stroll through the narrow lanes of Thamel, the tourist hub, and indulge in some souvenir shopping or savor the local cuisine at traditional eateries.
Exploring Kathmandu: A Tapestry of Tradition and Modernity
Kathmandu is a treasure trove of architectural marvels and cultural heritage. Visit the UNESCO World Heritage Sites of Kathmandu Durbar Square, Pashupatinath Temple, and Boudhanath Stupa to witness the ancient glory of Nepal. The intricate woodwork, intricate carvings, and serene ambiance will transport you back in time. Don't miss the opportunity to experience a traditional Nepalese dance performance, which will captivate you with its rhythmic grace.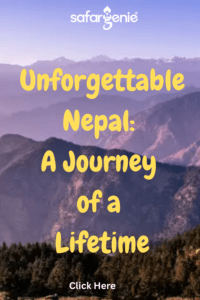 Pokhara: The Serene Lakeside Paradise
From Kathmandu, embark on a scenic drive to Pokhara, a picturesque city blessed with the serene Phewa Lake and the majestic Annapurna range as its backdrop. Indulge in boating on the tranquil lake, witness the captivating reflection of the mountains in its crystal-clear waters, and bask in the tranquility of the surrounding landscape. A visit to the famous Davis Falls and the World Peace Pagoda is a must to complete your Pokhara experience.
Annapurna Circuit Trek: Conquer the Himalayan Trails
For the adventure enthusiasts, the Nepal tour package offers an exhilarating opportunity to trek the Annapurna Circuit. Challenge yourself as you traverse through diverse terrains, lush valleys, and high mountain passes. Witness breathtaking vistas of snow-capped peaks, cascading waterfalls, and quaint Himalayan villages along the way. This trek is a life-changing experience that will test your limits and reward you with a profound sense of accomplishment.
Chitwan National Park: Wildlife Encounters in the Jungle
Immerse yourself in the wilderness of Chitwan National Park, a UNESCO World Heritage Site renowned for its rich biodiversity. Embark on a thrilling jungle safari and encounter endangered species like the Bengal tiger, one-horned rhinoceros, and Asiatic elephant. Explore the park on elephant-back or take a canoe ride along the Rapti River to observe a myriad of bird species. The Chitwan experience is a nature lover's paradise and a chance to witness wildlife in its natural habitat.
Lumbini: Birthplace of Lord Buddha
Delve into the spiritual realm as you visit Lumbini, the birthplace of Lord Buddha. This sacred pilgrimage site holds immense significance for Buddhists worldwide. Explore the Maya Devi Temple, the exact spot where Buddha was born, and the Ashoka Pillar, a testament to Emperor Ashoka's reverence for Buddhism. Lumbini offers a serene and introspective ambiance, ideal for quiet contemplation and spiritual awakening.
Adventure Sports in Nepal: Get Your Adrenaline Pumping
Nepal is a haven for adventure enthusiasts seeking an adrenaline rush. Experience the thrill of white-water rafting in the raging rivers, go paragliding over the stunning valleys, or embark on a thrilling mountain biking expedition. The rugged landscapes and challenging terrains of Nepal provide endless opportunities for adventure sports that will leave you exhilarated and craving for more.
Experience Nepal's Festivals: A Colorful Celebration
Nepal is known for its vibrant festivals celebrated with great fervor and enthusiasm. Witness the grandeur of Dashain, the biggest festival in Nepal, where the entire country comes alive with rituals, feasts, and cultural performances. Experience the vibrant colors and joyful atmosphere of Holi, the festival of colors, as people come together to celebrate the triumph of good over evil. Immerse yourself in the cultural tapestry of Nepal and partake in these celebrations to create lasting memories.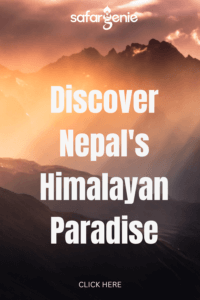 Best Time to Visit Nepal: Planning Your Journey
To make the most of your Nepal tour, it's essential to plan your visit during the best time of the year. The ideal time to explore Nepal is during the spring (March to May) and autumn (September to November) seasons when the weather is pleasant, and the skies are clear. These seasons offer the perfect conditions for trekking, sightseeing, and engaging in outdoor activities. Avoid the monsoon season (June to August) as heavy rains may hinder your travel plans.
Visa and Travel Requirements: Essential Information
Before embarking on your Nepal tour, ensure that you have the necessary travel documents in order. Indian nationals can obtain a visa-on-arrival at the border or the Tribhuvan International Airport in Kathmandu. Ensure that your passport is valid for at least six months from the date of entry and carry sufficient Indian currency for ease of transactions.
Accommodation and Cuisine: Comfort and Delight
Nepal offers a wide range of accommodation options to suit every traveler's preferences and budget. From luxury resorts and boutique hotels to cozy guesthouses and homestays, you'll find a comfortable place to rest and rejuvenate after your adventures. Indulge in Nepalese cuisine, known for its rich flavors and diverse culinary influences. Don't miss the opportunity to savor traditional dishes like momo, dal bhat, and Newari cuisine, which will tantalize your taste buds.
Safety and Security: Travel Tips for a Hassle-free Experience
While Nepal is a safe destination for travelers, it's always important to take necessary precautions to ensure a hassle-free journey. Carry a comprehensive travel insurance policy that covers medical emergencies, lost baggage, and trip cancellations. Respect the local customs and traditions, dress modestly when visiting religious sites, and be cautious of your belongings in crowded areas. Stay hydrated, use sunscreen, and carry necessary medication if you have any pre-existing medical conditions.
Souvenirs and Handicrafts: Take a Piece of Nepal Home
As you conclude your Nepal tour, don't forget to bring back a piece of this beautiful country with you. Explore the local markets and shops to find unique souvenirs and handicrafts that reflect Nepal's rich cultural heritage. From intricately carved wooden artifacts and colorful prayer flags to handmade textiles and Thangka paintings, there's something for everyone to cherish as a memento of their Nepal experience.
Conclusion
Embarking on a Nepal tour package from Delhi is an opportunity to immerse yourself in the majestic land of the Himalayas. From exploring ancient temples and serene lakeside paradises to conquering challenging trekking trails and witnessing vibrant festivals, Nepal offers a diverse range of experiences that cater to every traveler's preferences. So, pack your bags, embrace the adventure, and get ready for a journey that will leave an indelible mark on your soul.
FAQs (Frequently Asked Questions)
Is Nepal safe for solo travelers?

Nepal is generally safe for solo travelers. However, it's always advisable to take necessary precautions and be aware of your surroundings.

Can I trek in Nepal without prior experience?

While prior trekking experience is beneficial, there are treks in Nepal suitable for beginners as well. It's essential to choose a trek that matches your fitness level and consult with experienced trekking guides.

Are there vegetarian food options available in Nepal?

Yes, Nepal offers a wide variety of vegetarian food options. You can find vegetarian versions of traditional Nepalese dishes and international cuisine in restaurants and eateries.

What is the currency used in Nepal?

The currency of Nepal is the Nepalese Rupee (NPR). Indian currency is widely accepted in Nepal, especially in border towns.

Can I extend my Nepal tour to visit neighboring countries?

Yes, you can extend your Nepal tour to visit neighboring countries like India, Bhutan, and Tibet. However, make sure to check the visa and travel requirements for each country.
261 reviews on
Shamprasad Mysore srinivas
26/06/2023
Chardham was my 2nd trip with team SafarGenie and I am very satisfied with the service and Coordinators. They were helpful from the very beginning, tried to organize at the best. We were happy with respect to the hotels, food, and the help to transport our luggage. Driver was very professional and friendly. If an extra driver was provided we might have managed to cover a couple of places we missed. Help in booking helicopter tickets would have been a great boost to the trip. Surely recommend it to my friends and family. Thank you for a memorable trip.
Varadarajan Y.S.
25/06/2023
Overall, the whole trip was good and pleasant. Accommodation and food was good andcomfortable. We could meet the schedule most of the times. The changeover of the driver in-between affected the trip schedule and we were devoid of visiting few places suggested in the itinerary. Drivers could be more friendly with the passengers and should help them in visiting places. Since, it is a long trip, it is better to have two drivers who can drive in shifts safely.
Well organised, very proactive.
Very nice,very encouraging, very supportive
An awesome trip of Nepal from Gorakhpur. Budget package. All Hotels were beautiful. Driver was very good. Very peaceful and memorable journey.
Ramesh Panchal
05/06/2023
family tour for Nepal was very good experience and it was planned very well. our point of contact Priya was good in providing prompt response. Driver Sahid was very cooperative.
nitika tripathi
01/06/2023
Excellent management of travel.. even if we fluctuate about our destination they adjust it. They are very flexible.. very helpful.. thank you Safar genie and Thanks Ashutosh...😊
It was nice and pleasent trip. Team and driver they allocated was nice and helpful. Recomemd to others
NAVEEN CHANDRAKAR
28/05/2023
आशीर्वाद टूर एवं ट्रेवल्स द्वारा प्लान किया गया टूर पैकेज की जितनी भी तारीफ की जाय कम है । मैं अपने दोस्तों को भी इसकी जानकारी बतलाते रहता हूँ। बहुत ही अच्छा अनुभव रहा