Jaipur :
The capital city, Jaipur, popularly known as 'Pink City' is the most popular place in Rajasthan. The city is also a part of the noted 'Golden Triangle Tourist Circuit'(others being Delhi and Agra) in India. The name 'Pink City' has a history behind it; pink is considered to be the color of hospitality and so, back in 1876, Maharaja Sawai Ram Singh, then the ruler of Jaipur painted the city pink to welcome the royal guests, Prince Albert and Queen Victoria. Jaipur is proclaimed as a World Heritage Site by UNESCO. On your Rajasthan Tour Package, you will witness that Jaipur is the home of numerous forts, palaces, temples, museums, gardens, and shopping market places. The colossal and sumptuous architectural edifice such as Hawa Mahal, City Palace, Jal Mahal, Amer Fort, Jaigarh Fort, Jantar Mantar, Nahargarh Fort, Galtaji, Sisodia Rani Palace and Garden draw immense tourists every year to Jaipur. The other most visited places are Albert Hall Museum, Gaitore, Birla Mandir, Govind Dev Ji Temple, Pink City Bazaar, etc. The famous art and crafts of Jaipur are mention-worthy.
Jaisalmer :
Based at the periphery of the Great Indian Desert is the pre-eminent 'Golden City', Jaisalmer. The noteworthy architectural maestro, 'Sonar Qila' or Jaisalmer Fort, established in 1156 is a major tourist attraction. It can be called a living fort as still there are few people residing inside the fort, also their residence available for visitors inside, restaurants, and shops. Camel safari through the sand dunes of the Thar Desert is a must-try activity when visiting Jaisalmer on your Rajasthan Tour Package. Mention other attractions of Jaisalmer are Patwon-ki-Haveli, Bada Bagh, Gadisar Lake, Thar Heritage Museum, Jain Temple, Nathmal ki Haveli, Salim Singh ki Haveli, Kuldhara, etc.
Puskar :
Puskar is regarded as a holy city as it is a well-known pilgrimage site. Puskar is a very old city and its time of emergence is still unspecified. Being a pilgrimage, it is home to a number of temples and ghats, most famous is the Bramha Temple because it is the only Bramha Temple found across India. Other temples to be mentioned are Savitri Temple, Apteshwar Temple, Varaha Temple, Rangji Temple, etc. 'Puskar Sarovar', a sacred lake, on the shore of which Puskar city is situated; the water of the lake is believed to be holy. Hence the pilgrims take bath in the ghats of Puskar Lake. The holy city comes to life when the famous Camel Fair takes place in the month of either October or November for five days. The activity of the fair is to sell live stocks but the real fun is to watch the camel and one can also experience the lively folk music and dance as well when on Rajasthan Tour Package.
Udaipur :
Lakes being the main attraction in this city, Udaipur is regarded as the 'City of Lakes' or as 'Venice of East'. The hypnotic grace of the lakes, especially, Lake Fateh Sagar and Lake Pichola will leave you wonderstruck. Spellbinding Rajput architectural beauties of Udaipur such as the Lake Palace, City Palace, Jag Mandir, Bagore ki Haveli, Saheliyon ki Bari, Sajjan Garh Monsoon Palace, Kumbhalgarh Fort, Moti Magri, etc. entice travelers to experience the imperial tinge. Jagdish Temple, another marvelous architecture, build by Mewar ruler Maharana Jagat Singh in 1651. The temple is devoted to Lord Vishnu which high lights Indo-Aryan style curving all over. Art and craft play a key role across Rajasthan, so during Rajasthan Tour Package a visit must to Shilpgram is a must. Shilpgram is an artesian village where one can get a complete idea about Rajasthani art and culture. Different art and craft workshops are organized for art enthusiasts to teach and to spread the art all over. Artistic festivals and fairs are also held at Shilpgram which attracts quite a good number crowd.
Jodhpur :
Jodhpur, the second-largest city of Rajasthan owns some popular nicknames, namely, 'The Blue City', 'Sun City', 'The Gateway to Thar'. Resting at the top of a hill 400ft high is the massive Mehrangarh Fort, the largest fort in Rajasthan, gives a panoramic view of the Jodhpur city. when looked from such a height the city appears blue in color as the walls and houses are painted blue, hence Jodhpur is called 'The Blue City'. Jodhpur records sunny weather all 365 days and so it is called 'Sun City'.
Jodhpur is also referred to as 'Gateway to Thar', as it is situated on the verge of the Thar Desert. During the Rajasthan Tour Package other top tourist attractions of the city are Umaid Bhawan Palace, Jaswant Thada, Mandore Garden, Kailana Lake, Rao Jodha Desert Rock Park, Clock Tower, Chamunda Mata Mandir, Balsamand Lake, Masuria Hill Garden, Sardar Market, etc. With numerous market places for shopping, various food joints, guest houses all around make it a lively city.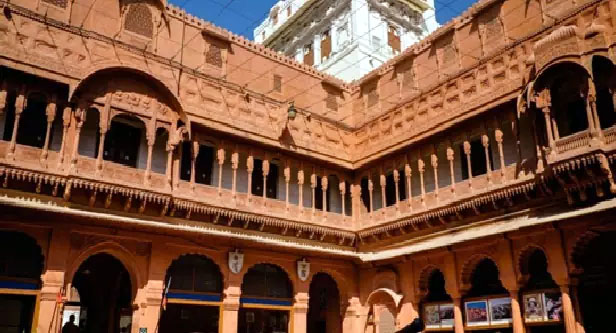 Bikaner :
Centered in the desert, Bikaner is also called 'The Desert City'. Bikaner gives a glimpse of the royal Rajput past. Though not as huge as the other destinations of Rajasthan, the wonderful architecture, colorful art, rich culture, various festivities add vibrance to the city. The city is also known as 'Camel Country' because being India's only camel research center and also for breeding the best quality riding camels. Apart from Puskar, one can also experience a camel fair in Bikaner. Being 'The Desert City', desert safari s the major activity provided for the tourists. Bikaner's main attractions are Junagarh Fort, Lalgarh Palace, National Research Centre on Camel, Shri Laxminath Temple, Ganga Singh Museum, Sadul Singh Museum, Jain Temple, etc. On your Rajasthan Tour Package, you must try Bikaner's delicacies such as thandai, a variety of bhujiyas, sweets, and of course the authentic Rajasthani Cuisine.
Mount Abu :
In Rajasthan Tour Package, Mount Abu, the only hill station in the state, is definitely great ease for the people of searing Rajasthan. The hill station stands high at 4000 ft above sea level. The thriving green surroundings of Mount Abu is a complete eye soother. The historical significance of Mount Abu reveals that initially 'Arbuda' was the name which is also mentioned in the Indian epic Mahabharata and it is also said to be the retiring place of Rishi Vasistha. 'Guru-Shikhar' (1722 meters) the highest peak of Aravali Range is located in Mount Abu, which is the ideal place for trekking activity. Again being a part of Rajasthan, the outstanding architectural structures are not to be ignored. Dilwara Jain Temple, Achalgarh Fort, etc. are a few examples of the architectural beauties of Mount Abu. Viewpoints such as Sunset Viewpoint and Honeymoon Viewpoint are notable and ideal locations for experiencing the serene and picturesque view of the hill station. After a tiring day, one can enjoy a relaxing time boating at the famous Nakki Lake. Other attractions to explore are Trevor's Tank, Mount Abu Wildlife sanctuary, Toad Rock, Achaleswar Mahadev Temple, Mount Abu Bazaar, Thrill Zone Adventure Park, etc.
Ajmer :
Located in the Aravali Range, Ajmer is the hub of historic events, lore, and culture. In Rajasthan Tour Package, Ajmer is popular for the renounced Muslim pilgrimage site Ajmer Sharif Dargah which is the shrine of Khwaja Moinuddin Chishti. It is an example of well crafted Mughal architecture build by Mughal emperor Shah Jahan. Visitors from all around the country pay a visit to the Dargah with the desire of fulfilling their wishes. Other places of attractions are Taragarh Fort, Adhai Din ka Jhonpra, Akbari Fort and Museum, Anasagar Lake, Soniji ki Nasiyan, etc.
Sawai Madhavpur :
Sawai Madhavpur is named after the founder Maharaja Sawai Madho Singh, who build the city in 1763. The city is surrounded by two important mountain ranges, namely, Vindhya and Aravali. Sawai Madhavpur is highly noted for the Ranthambore National Park, the largest tiger reserve in India, and Ranthambore Fort. A good population of tigers dominates Ranthambore National Park because of which Sawai Madhavpur has earned the name 'Tiger City'. The forest is also home to leopards, crocodiles, bears, and other different animal species. Ranthambore Fort is an ancient fortress which is located within the national park and dates back to the time of the Chauhan Dynasty. UNESCO declared the Fort as a World Heritage Site. Other attractions of the Rajasthan Tour Package at Sawai Madhavpur are Khandar Fort, Chamatkar Temple, Chauth Mata Temple, Rajiv Gandhi Regional Museum of Natural History, Mansingh, and Kailad Devi Tiger Sanctuaries, etc.
Chittorgarh :
On your Rajasthan Tour Package, Chittorgarh must be on the list of places as it has witnessed Jahar. Famously known for valiant rulers like Great Maharana Pratap and saints like Meera Bai, Chittorgarh rests on the bank of rivers Gambheri and Berach. Initially, it was the capital of Mewar during the reign of Sisodia rulers. Chittorgarh's major attraction is the Chittorgarh Fort, which is one of the largest forts in India. Exploring this massive structure in a day can tiring and challenging. The Fort's historic importance is the famous tragic event of 'Jauhar' ( a Hindu practice of massive self-immolation by women) attempted by Rani Padmini and Rani Karnavati. Besides the Fort, other attractions are Rana Kumbha Palace, Fateh Prakash Palace, Rani Padmini Palace, Meera Temple, Vijay Stambh, Kriti Stambh, etc.
Bharatpur :
Bharatpur, another UNESCO declared World Heritage Site (1985) of Rajasthan, is popular for Keoladeo Ghana National Park or better known as Bharatpur Bird Sanctuary. This sanctuary is home to over 370 species of birds and animals; especially to the endangered Siberian Crane who migrates here during the winter season, and a variety of flora and fauna. The famous Lohagarh Fort, an 18th-century architectural wonder, gives a glimpse of its glorious historic past. Bharatpur also offers a number of other interesting places to explore like Bharatpur Palace and Museum, Government Museum, Bankey Bihari Mandir, Ganga Mandir, Dholapur Palace, Deeg, Band Baretha, Seetharam Temple, Chawad Devi Temple, Kamaban, Jawahar Burj, Laxman Temple, and more in your Rajasthan tour package.